Coralia Liveaboard Packing List
Liveaboard holidays are all about relaxing, diving or snorkelling, eating, relaxing a bit more and repeat! While on your scuba diving cruise with Coralia you will spend a lot of time in the water. The rest of the time you will spend relaxing on deck, in our comfortable air-conditioned lounge or in your luxurious cabin. Have a look below at our liveaboard packing list to find out what to bring and what to leave at home.
Basically, our motto is: Put out what you want to pack and then half it!!!
Basics for your Travels
Passport – your passport must be valid for at least six months at the time of travel.
Visa – most nationalities can visit Indonesia for 30 days without a visa. If you will stay longer than 30 days, or are from one of the exempt countries, you can pay USD 35 cash for a visa on arrival at the port of entry.
Ticket – you must show ongoing travel from Indonesia, you cannot arrive on a one-way ticket.
Insurance – dive insurance is mandatory for scuba divers. We highly recommend you also have health and travel insurance. Bring your insurance documents with you.
Cash – the local currency is Indonesian Rupiah (IDR). We recommend you bring some cash for things like souvenirs and perhaps a snack or drink in the airport. If you have excess luggage for your domestic flight in Indonesia you must pay for this in IDR.
Certification cards – scuba divers bring your certification cards. Handy hint: save some packing weight and get e-cards or take a photo of your cards and save them on your phone.
Logbook – don't forget your logbook if you like to log your dives. You can note down all the amazing things you've seen and collect Coralia stamps and stickers!
Clothes, Lotions and Potions
Other than your dive gear this is what takes up the rest of the space. You will be in and out of the water most of the day so you really won't need many clothes. A sarong, swimming costume or a pair of shorts and t-shirt are the order of the day. Storage space can be short on a liveaboard so try to pack the minimum possible!
Clothes – It is very warm all year round in Indonesia but you might want to bring a jacket or jumper for the chilly flights and for any chilly evenings on board.
Swimming costume – very important! If you prefer to put on a dry swim suit before a dive, perhaps bring two so the other one has more time to dry between in-water activities.
Shoes – you do not have to wear shoes on board. If you prefer to wear shoes, flip-flops or sandals are best. Bring some walking shoes if you will join any of the more strenuous treks that might be offered during your cruise.
Sun protection – this is essential. Please make sure it is environmentally and reef friendly.
Sun hat and sunglasses – also pretty important, especially for relaxing on deck and the longer speedboat rides.
Mosquito repellent – mosquitos are not normally a problem on board because we will not be close to any islands. But you might want to bring some to use on any land excursions.
Health and hygiene products – at the time of writing the Covid-19 virus is still an issue. Please bring facemasks, gloves and hand sanitiser as needed, especially for during travel. We will provide hand sanitiser on board Coralia for once you have arrived.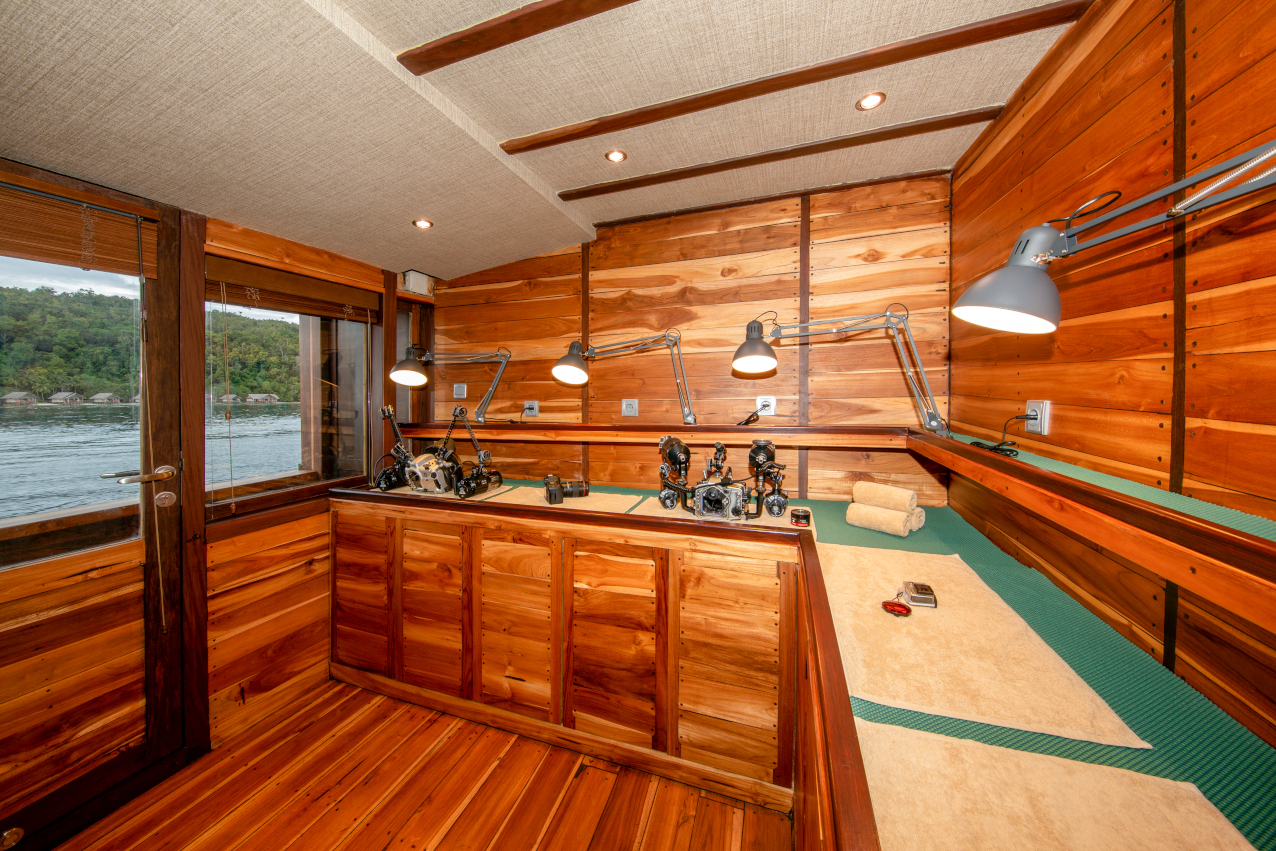 Gadgets
Camera – everywhere is so pretty so don't forget your camera/underwater camera! Bring any spare parts you might need, there's no camera supply shops where we are going! On speedboat rides you might want to have a dry-pouch for your non-waterproof cameras. Or you can purchase one of our Coralia dry bags on board J
Chargers – don't forget your chargers for the electronics you bring along, such as your camera, phone and laptop.
Plugs – we provide a three-way extension plug in every cabin. These can fit all types of plugs. There are also USB charging ports in your cabin. Other than that, the normal plug socket in Indonesia is the two, round pin. See the photo below.
Diving and Snorkelling Liveaboard Packing List
Dive or snorkelling gear – if you have your own. Coralia does have rental gear on board. Please let us know when booking your rental equipment requirements.
Spare parts – if you do bring your own equipment please also bring any spare parts you might need, ie, mask or fin straps, batteries for dive computer, etc.
Safety equipment – it is a good idea to bring your own reef hook, safety sausage (SMB) and whistle. We will provide a Nautilus Lifeline to each buddy team for extra safety.
Rash guard – snorkelers or divers who want to go for a swim between dives, it is a good idea to bring a rash guard. It is good for sun protection while in the water. It will also keep any little stinging organisms away from your skin.
Mask defog – please bring your own, especially now during Covid-19 times, as the use of saliva is discouraged.
Prescription mask – if you normally need glasses you might need a special mask so you can see well underwater. Or it's also ok to wear contact lenses while diving.
Medicine, Food and Essentials
Medicine – if you have any medicine that you need to take regularly please bring adequate supply for your whole stay.
Other medicine – if you have any other medicine that you might need for things like allergies or illness, please bring these with you too.
Seasickness – if you suffer from seasickness please bring medication with you.
Sanitary products – for the ladies, bring tampons if you might need them, they are not readily available in Indonesia.
Special food – we operate in very remote locations and so it is difficult to get hold of special dietary products. Bring your favourite gluten free food, or vegan snacks.
Alcohol – we have beer, wine and spirts on board. Our stewards make excellent cocktails too! If you would like to bring your own alcohol please bear in mind you can bring only one litre per person into Indonesia.
What else should be on your Liveaboard Packing List?
Anything else you might need – special snacks or your teddy bear, anything you might specifically need or cannot live without!
Binoculars – for whale or dolphin spotting on deck. Or bird watching when moored up for the afternoon.
Donations – some guests like to bring presents for the local people. This is not obligatory and we only write it here because some guests have commented that they would have brought something if they had known. We might visit a village and it's fun to give out gifts to the children.
Please do not bring items wrapped in plastic as this plastic will not be disposed of appropriately. It is also best not to bring plastic toys or balloons. Most useful are things like pencils, pencil sharpeners, books, crayons, clothes, hair bands for girls, etc. Perhaps you even have an old mask and snorkel to give away to the next generation of sea lovers!
What should you leave at home?
All of the above suggestions are what to bring but equally important is what not to bring!
Towels – we provide towels in your cabin, your own personalised dive towel and towels on the sun deck.
Water bottle – you will receive your own Coralia water bottle to use on board.
Toiletries – we have reef friendly soap, body wash/shampoo and conditioner on board.
Laundry powder – there is a laundry service on board Coralia. There is an extra charge for this service.
Fishing equipment – the majority of our diving will be inside Marine Protected Areas so no fishing is allowed. This includes spearfishing.
Gloves – please do not bring dive gloves, in some dive destinations in Indonesia gloves are banned. Divers that wear gloves are more likely to touch things underwater that shouldn't be touched. So please leave them at home, unless you have a medical reason for wearing them.
Fish books – we have a large library of fish ID books on board.
Hair dryers – every cabin has a hairdryer for your use.
We hope this list helps you with your packing for your liveaboard trip with us! You can also find this list together with a lot of other useful info in our FAQ document here.
Have a watch of this video by our guest Rodrigo to see what a liveaboard trip might look like!
Other Intersting Travel Topics from Coralia's Blog